Content of the article
Rather, tariffs aimed at punishing Russia and Belarus for invading Ukraine are hurting Canadian farmers, say Ontario grain farmers.
Content of the article
Kevin Marriott, who farms in Enniskillen Township, where he is also the mayor and current reeve of Lambton County, said he and other farmers pay tariffs on fertilizer shipped from Russia and used on crops grown in Canada.
"It's very unfair," Marriott said. "It does not punish Russia at all."
As it has done for years, Marriott ordered and paid for fertilizer at the end of 2021 to use in its fields this growing season.
"The war started in February and the federal government, in its wisdom, imposed these tariffs," he said. "They just dropped like a hammer and said that any fertilizer that comes ashore after the war starts will be hit by the tariff."
Suppliers pass the tariff on to farmers, Marriott said.
It's costing him an extra $7,000, "and that's on top of fertilizer costing three times what it was a year ago," Marriott said.
"This is hitting farmers hard.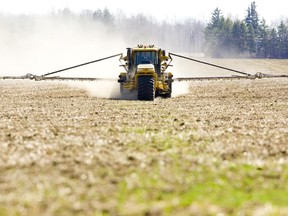 Marriott said he ordered and paid for the fertilizer long before the war started, but didn't even know it would be shipped from Russia.
"When I buy it from a local supplier, I have no idea where it comes from," he says. "We have no control over where it is imported from."
Farmers' groups and Conservative MPs have been pushing the federal government to make tariff changes for farmers who ordered fertilizer before the war began, but those calls have hit "a brick wall, so far ", Marriott said.
"We need help from the federal government in the form of some type of tariff relief," said Brendan Byrne, president of Grain Farmers of Ontario, in a statement posted on the group's website.
Content of the article
"We thank them for allowing the fertilizer into Canada, but we can't use it to grow food for Canada and the world if we just can't afford it.
Marilyn Gladu, Conservative MP for Sarnia-Lambton, described the tariff as a "very serious problem" hurting farmers across Canada.
"They put the tariff on the fertilizers that had already been purchased," Gladu said. "The Russians already have the money, so now the Canadians are being charged 35% more, which is thousands of dollars – sometimes hundreds of thousands of dollars – for these farmers."
Gladu added: 'It doesn't impact Russia at all, but penalizes farmers' who have 'no ability to pass on the cost'.
And this comes at a time when Ukraine, a major grain supplier, is unable to increase the volumes it normally does because of the war and when Canada needs to increase its grain production, a she noted.
"We should prioritize increasing production to help feed the world," Gladu said.
She said the Tories had called on the government to remove tariffs on fertilizers purchased before March 2.
"That's where the money has already gone to the Russians" and the tariff "only hurts Canadians," she said. "They refused to do it."
Cameron Newbigging, spokesperson for Agriculture and Agri-Food Canada, said in an email that "customs duties and taxes are assessed based on when goods are imported, as opposed to when they are purchased. ".
Most-favoured-nation tariff treatment was removed for Russia and Belarus on March 2, resulting in a 35% tariff on virtually all imports from those countries, he said.
Content of the article
The order does not apply to goods that were in transit to Canada on or before March 2 and could still qualify for most-favoured-nation treatment, Newbigging said.
"The 35% customs duty on Russian fertilizers is not imposed on farmers but paid by importers," he said. "In this case, some importers maintained their purchases from Russia even after the measure was implemented, while others decided to enter into other supply agreements."
Newbigging said the government has no plans to remit tariffs that have been paid to importers and that government officials have communicated this to industry, "so that Canadian businesses can take steps to diversify their supply chains away from Russia in the short term".
Canada has also taken steps to ensure growers have the fertilizer they need for the 2022 growing season and made changes to a federal loan guarantee program for farmers, he said.
"The Government of Canada will continue to work to ensure Canadian farmers have access to the resources and tools they need to continue to provide a stable food supply for Canadians and meet the needs of importing countries," said Newbigging. .